Biggest environmental Problem
What's the Worst Environmental Problem? We Are
ESF faculty: Human population, lack of knowledge are planet's biggest challenges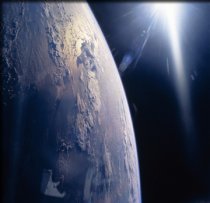 Earth's worst environmental problems all come down to sheer numbers of human beings, their behavior and their desire for both resources and consumer goods, according to the SUNY College of Environmental Science and Forestry's (ESF) Earth Day survey.
The ESF faculty was asked to answer a single question: "What is the world's biggest environmental problem?" Their answers focused on population growth, humans' inability to grasp the challenges we face and the lack of a well-informed, well-coordinated effort to address those challenges.
"Fundamentally, the human mind is the source for all environmental problems, " said Dr. Jack Manno, an associate professor in ESF's Department of Environmental Studies. "This doesn't mean that we make up environmental problems; rather, our hurts (disconnection and oppression) distort and confuse us in ways that make our collective behaviors highly destructive to all life on Earth."
"The biggest problem is the disconnect between the human perception of nature, and our place in nature, " said Dr. Thomas Horton, who teaches in the ESF Department of Environmental and Forest Biology (EFB). "Somehow western civilization developed a collective understanding that 'man' is not the same stuff as the rest of the biosphere. This puts the disrespect and disregard for the natural world in perspective and explains how we can be so abusive without understanding the consequences."
Dr. Rafaat Hussein of the Department of Sustainable Construction Management and Engineering, said humans are the source of the problems. "Although we usually refer to environmental problems as 'natural, ' they are, to a large extent, manmade, " he said. "The challenges can be limited by designed, conscious human actions."
Dr. Karin Limburg, a fisheries ecologist, was one of several faculty members who pointed to human population growth and related consumption as the biggest problem, along with the challenge of getting people to talk about these issues.
"In my opinion, the world's biggest environmental problem is the continued increase in human population, and the consumptive patterns of humans, " said Dr. Chuck Kroll of the Department of Environmental Resources Engineering. "It's a very sensitive issue that many don't want to address given political, cultural, social and religious implications."
Other faculty members pointed to more specific problems, such as climate change and invasive species, and highlighted the human element of those problems.
Scott Shannon, associate provost and dean of the college's graduate school, said climate change is most pressing "because it cannot be solved or even addressed with more environmental and technological know-how alone." He said climate change "requires the coordinated application of political will on a scale perhaps never seen before." Dr. William Powell, a biotechnologist working to restore the American chestnut tree that was virtually wiped out by an invasive blight, said the spread of invasive species resulting from international commerce is a problem that can be best addressed by "new conservation tools using modern technology."
Climate change was also mentioned by Dr. Art Stipanovic of the Department of Chemistry, who said increasing carbon dioxide in the atmosphere from human sources is the biggest problem because of its relationship to climate change and ocean acidification.
Dr. Timothy Volk, co-director of the ESF-based SUNY Center for Sustainability and Renewable Energy, pointed to the human population's lack of understanding regarding the systems that supply energy and their impacts on the environment around us. "We turn on computers, charge our phones, travel from place to place and turn up the heat to stay warm but don't really know what impact our decisions are having, " he said.
Janine DeBaise, who teaches writing and literature at ESF, said the problem lies in the disconnect between scientific knowledge and the misinformation absorbed by the general public. She offered a thought about the next big step for making improvements: "In this country, our best chance at solving the environmental crisis is with an educated, aware, well-informed public that understands what we are doing to the earth, why we should care about that, and what needs to be done if we want to survive as a species."
Emanuel J. Carter Jr., who teaches in the Department of Landscape Architecture, said an important issue is the opportunity to address urban development in a way that integrates human settlement patterns and ecosystem health to make the community a contributor to the ecosystem, human health and well-being. "This work needs to be keyed to the challenges contained in the United Nations' Millennium Ecosystem Assessment, which addresses challenges to our global ecosystems in terms of the health of the biosphere and in terms of opportunities for human well-being, " Carter said.