Rio Tinto Environmental Issues
Rio Tinto accused of environmental and human rights breaches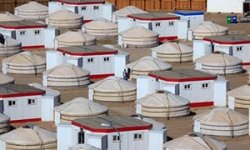 The workers' accommodation area at the Oyu Tolgoi copper mine in the South Gobi desert in Mongolia. Photograph: Adrian Bradshaw/EPA/Corbis
Native Mongolian herders angry that copper and gold mine is threatening fresh water supply and ecology
Sukhgerel Dugersuren, executive director of Mongolian civil society organisation Oyu Tolgoi Watch, said: "Water is a life and death resource. Rio Tinto is diverting water without the consent of the local community or the government.
"It is already evident that not only livestock but local communities are losing access to adequate water supply. Pasture ... [and] water resources are being taken from us and fenced in by the mine."
She claimed that a tailings pond used to collect waste material from the mine had leaked and told Rio's board that the local community demanded assurances that "there isn't going to be a catastrophe in the region".
Sam Walsh, Rio's new chief executive, said the company was committed to environmental protection and human rights and was closely monitoring the mine's development to "ensure our neighbours have a healthy and prosperous future".
At the company's annual meeting, Walsh said Rio recognised the importance of water and would draw water from a deep level aquifer, not from surface water. He said a seasonal river was being diverted around the mine, but the company would create a new spring for animal grazing and water collection further downstream.