News Articles on Environmental Issues
Leonardo DiCaprio Foundation Commits $15.6 Million to Fight Environmental Issues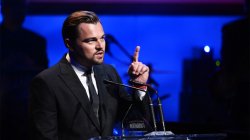 The Leonardo DiCaprio Foundation has allotted $15.6 million in grants for environmental issues, the foundation announced Wednesday. Terry Tamminen has also been tapped as CEO.
The grants will be used for wildlife and habitat conservation, to aid in the defense of indigenous rights, and to support innovative grass roots efforts aimed at combating climate change and solving complex environmental issues, according to an official release.
"Today we are greatly increasing our level of vital grant making and strategic partnerships to help solve some of the world's most pressing environmental challenges, " said Leonardo DiCaprio, who is a founder and chairman of the foundation.
"At this critical time, we are pleased to have Terry join us as CEO, " DiCaprio added. "Terry is a proven leader, with the experience and passion necessary to work alongside Justin and the entire LDF team to further strengthen and expand the impact of our global efforts."
Tamminen will report directly to DiCaprio. He comes to the foundation from Seventh Generation Advisors, an environmental consulting practice he founded in 2007.
DiCaprio has been outspoken about environmental issues, including when he won the Oscar for best actor for his performance in "The Revenant." During his acceptance speech he said, "Climate change is real, it is the most urgent threat facing our species."