Greek yogurt Environmental Issues
Why Greek Yogurt Makers Want Whey To Go Away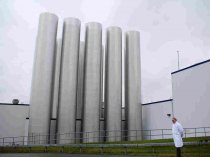 Most of the gleaming steel tanks outside Fage's yogurt factory hold milk. One, however, holds the yogurt byproduct whey. Dan Charles/NPR hide caption
toggle caption
Dan Charles/NPR

Most of the gleaming steel tanks outside Fage's yogurt factory hold milk. One, however, holds the yogurt byproduct whey.
Dan Charles/NPR

A few months ago, I let you in on a little secret about Greek yogurt. Not all of this extra-thick, protein-rich yogurt is made the old-style way, by straining liquid out of it it. Some companies are creating that rich taste by adding thickeners, such as powdered protein and starch.
Judging by comments that I heard, a lot of people feel rather passionately that the original, strained version is morally superior. But here's another little secret: That traditional process for making Greek yogurt is also quite wasteful.
At the Fage factory in Johnstown, N.Y., for instance, it takes 4 pounds of milk to make 1 pound of authentic Greek yogurt. What happens to the other 3 pounds? It's strained out of the yogurt as a thin liquid called whey, and getting rid of that whey is actually a headache. Greek yogurt factories have to pay people to take it off their hands.
This may sound confusing if you heard my story about cheese-making the other week. That story described whey as a valuable source of lactose and concentrated protein that ends up in other food products (including the thickened version of Greek yogurt, in fact).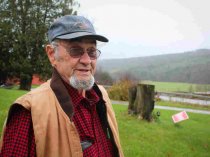 Ken Dibbell, a farmer near Norwich, New York, mixes Chobani's whey with cow manure and spreads it on his hay fields as fertilizer. Dan Charles/NPR hide caption
toggle caption
Dan Charles/NPR

Unfortunately for Greek yogurt makers, their whey isn't nearly as valuable as what you get from cheese-making. The whey from the Fage or Chobani factories contains fewer solids and is more acidic. So far, nobody's figured out a way to make money from it.
What's more, you can't just dump it into some nearby river; that would be an environmental crime.
George Bevington, an engineer who deals with wastewater treatment in Johnstown, says the whey would set off a boom of sugar-eating bacteria, "and that means there'd be no oxygen left in the river, and that means there'd be no fishies left in the river!"
I met Bevington at Johnstown's wastewater treatment plant, which he used to manage. (He still works there as a consultant.) In the distance, less than a mile away, we can see the steel storage tanks of the Fage factory. Fage built its factory there, in fact, so it could pump its whey straight across the fields to this plant.