Environmental Issues questions
Environmental issues leave resident with questions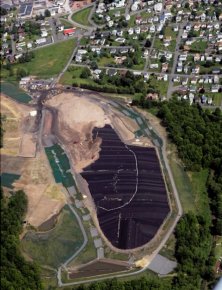 TIMES-SHAMROCK FILE The former Marjol Battery recycling plant in Throop was a previously contaminated industrial site.
Northeastern Pennsylvania's industrial and mining heritage left its marks, but although some new concerns are cropping up, old ones are being addressed.
Industrial site cleanup, testing for lead in drinking water, landfill expansion, monitoring air quality and black lung benefits are some of the health and environmental issues the region faces today.
High lead levels
Since high levels of lead contamination in the drinking water of Flint, Michigan, residents recently made national news, the state Department of Environmental Protection has had a lot of inquiries about lead in Northeastern Pennsylvania drinking water, agency spokeswoman Colleen Connolly said.
The heavy metal is toxic to many organs and ingesting it can lead to lead poisoning. Lead is particularly hazardous to children because it interferes with development of the nervous system.
Scranton had the third-highest percentage of children under the age of 7 with elevated levels of lead among 20 of Pennsylvania's larger cities, according to a state Department of Health report.
In Scranton, 19.45 percent of 1, 018 children tested had elevated levels of lead while in Wilkes-Barre, which ranked ninth, 13.17 percent of 638 children did, according to the state's most-recent Childhood Lead Surveillance Annual Report, for 2014. Scranton trailed Allentown's 23.11 percent and Altoona's 20.45 percent.
DEP is assisting the U.S. Environmental Protection Agency in collecting data on monitoring of lead and copper in public water systems, Connolly said.
However, she said the problem in Northeastern Pennsylvania is not lead in the water, but in old paint.
"Lead paint was used in thousands of homes in Northeastern Pennsylvania, " she said.
Today, household paint is oil-based or water-based, Connolly said.
The EPA set standards for lead in paint in 1978, and many homes constructed before that year contain lead-based paint.
Data from the Pennsylvania Department of Health for 2009-2013 — the most recent available — shows that, of the 148, 412 houses in Luzerne County, 113, 911, or 76.8 percent, were built before 1978, and 70, 357, or 47.4 percent, were built before 1950.