Environmental Issues Photographers
Bold Photographs Depict Environmental Decay [Slide Show]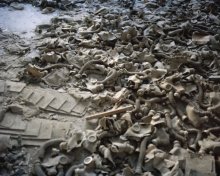 Advertisement |
Report Ad
This slide show presents selected works from Power, the fourth theme of the Prix Pictet in 2012 that is part of an annual cycle, which has also included Consumption, Growth, Earth and Water. The photographs depict sea level rise, deforestation, oil spills, natural and nuclear disasters—subjects that may not surprise, but that still serve as striking portrayals of power's manifold forms. "The work of the short-listed photographers provides a vivid portrait of human vulnerability, " wrote Kofi Annan, the former United Nations secretary general and honorary president of the Prix Pictet, "but they also remind us that the same forces that might engender despair can also be the source of great hope. They evoke a heartening reminder of our capacity for humanity, courage and solidarity in the face of adversity."[COMBINED PARAS]
Over 650 photographers worldwide entered the contest for Power. Judges named Luc Delahaye the award winner in October 2012. Since then the Power exhibition has toured galleries around the world. It is currently showing at the Aperture Gallery in New York City until January 30, 2014.
Advertisement | Advertisement |
Every Issue. Every Year. 1845 - Present
Neuroscience. Evolution. Health. Chemistry. Physics. Technology.
Subscribe Now!