Environmental Issues in the Niger Delta
Oil spills keep devastating Niger Delta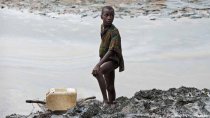 It's David versus Goliath in the oil-rich Niger Delta. On one side are Royal Dutch Shell - the fourth largest company in the world - and ENI, Italy's biggest industrial enterprise. On the other side are the local people: 40 different ethnic groups, with 70 percent of the population living below the poverty line.
The companies have been conducting large-scale oil extraction in the Niger Delta for many years. Amnesty International has leveled heavy criticism: A recent analysis has come to the conclusion that the companies are responsible for more than 550 oil spills within just one year.
"Last year Shell reported 204 separate oil spills, while ENI - which operates in a smaller area - reported 394 spills, " says Mark Dummett, a researcher on the business and human rights team of Amnesty International. "The number of oil spills occurring in the Niger Delta is really disturbing."
According to the companies, 5 million liters (1.3 million gallons) of oil were spilled during that time. But Dummett doubts those figures are correct: "According to past research, companies underestimate the amount of oil that is spilled."
Such spills can be caused by accidents, corrosion, or poor maintenance. Also sabotage plays a role - as oil is a valuable good, people sometimes tap the pipes to siphon it away - and then leave the holes without plugging them back up. While Shell in its statistics for 2014 lists the majority of spills as "sabotage/theft, " voices of local communities claim there are other reasons behind the spills.
The spill near to Bodo left this creek filled with oil, not fish
Green to black
The Niger Delta makes up more than 7 percent of Nigeria's total land mass, covering an area of 20, 000 square kilometers (12, 000 square miles). It is one of the most biodiverse places on the planet, comprising four ecological zones: coastal barrier islands, mangrove swamps, freshwater swamps and lowland rainforests.
Drilling here began in the 1950s. By now, 2.5 million barrels of oils are produced every day. The delta makes Nigeria the most oil-rich country in Africa. But corruption and weak governance translate into little environmental oversight or regulation.
The impacts of oil spills on the Niger Delta are devastating: Mangrove forests are being obliterated, fish and shellfish are dying off, and whole ecosystems are collapsing.
This also affects local inhabitants, says Amnesty Internationals Dummett, who traveled to the delta mid-March: "I met people who were forced to take their children out of school because they couldn't catch the fish that they needed to earn a living, " he told DW. "The amount of harm that's been done to both the environment, and the people who rely on the environment, is really enormous."
Environmental groups are calling for the companies to properly clean up these spills when they occur. But activists say that time and time again, this isn't happening. And the effects of oil spills - especially since they are not remediated - last for a very long time.
The once-pristine Niger Delta has been polluted for decades
Past success stories
Besides demanding that companies clean up, communities are also seeking compensation. And one recent case has a documented legacy: After major spills in 2008 and 2009, Shell agreed in early 2015 to pay the residents of the town of Bodo in the Niger Delta 76 million euros ($81 million) as compensation for environmental pollution.
This represents the largest payout to any African community following environmental damage. The amount that the individuals will receive is equivalent to several years of wages.
"Hopefully this will serve as a precedent, and other communities will come forward and bring similar suits, " says Drummet. However, whether the spills of Shell and ENI in 2014 will lead to similar successful claims by local residents is uncertain: The Bodo case was handled by a court in the United Kingdom.
According to Amnesty International, hundreds of cases have been brought against Shell and the other companies in Nigeria - but the legal system is very slow.
Upcoming elections
This March 28, elections will take place in Nigeria. Drummet hopes that pollution in the Niger Delta will be among the topics the new president will work on. "Both the major candidates - President Jonathan and the main challenger Buhari - have talked about cleanup of the Niger Delta, " he said. "It is a major national issue, because it affects so many people."
Amnesty International has now also asked the Italian Government to investigate what's happening in ENI's Nigerian operations. There is general agreement that a long-term solution to environmental problems in the Niger Delta can only be solved on the political level.