Environmental Issues Companies
Report: Employees Want CEOs to Take Public Stand on Environmental Issues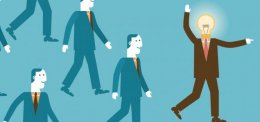 New research by global research consultancy Povaddo LLC has revealed that 65 percent of employees want their CEO to publicly take a stand on environmental and social issues.
Tony Calandro
will discuss
tools for developing the workforce of the future
at
SB'17 Detroit
Designed to explore employee attitudes about corporate social activism, the report surveyed more than 1, 236 US employees of Fortune 1000 companies, asking them about social and environmental issues that are most important to them, the relationship between a company's stance on ESG issues and their appeal as an employer and the existence — or lack thereof — of environmental and social discourse between CEOS and employees.
Respondents were presented with a list of 23 social and environmental issues and asked, "Would you like to see your employer use its influence to take a public stand and/or be more vocal on any of the following issues?" Renewable energy and climate change were identified as the top issues they would like to see their employers address, as well as clean air, water and open spaces and improving public education. Furthermore, 82 percent of employees said that they wanted their CEO to rally support inside their company and 79 percent want their CEO to oppose government attempts that run counter to their company's position.
Support for these issues ran across age, gender, region, employment level, ethnicity, income, company size, political affiliations and other factors.
"Our survey suggests that a strong majority of employees expect their CEO to demonstrate leadership on important societal issues and a distinct subset of employees want to build support for these issues inside their company, " said William Stewart, president and co-founder of Povaddo. "CEOs and their companies would be well served if they harnessed their employees' passion on these issues and develop strategies to engage them."