Environmental Issues and Concerns Project
The Hunger Project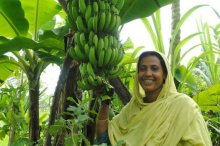 "Mother Earth – our only home – is under pressure…Without a sustainable environmental base, we will have little hope of attaining our objectives for reducing poverty and hunger and improving health and human well-being."
-Ban Ki-Moon, Secretary-General, United Nations, 22 April 2010
Environmental concerns like climate change, deforestation, water scarcity, decreasing biodiversity and soil erosion are global problems. As declared by the United Nations, it is our global responsibility "to promote harmony with nature and the Earth to achieve a just balance among the economic, social and environmental needs of present and future generations of humanity."
Global carbon dioxide emissions (CO2) have risen to more than 30 billion metric tons per year, a 35 percent increase since the 1990s.
Biodiversity continues to decline and nearly 17, 000 species of plants and animals are currently threatened with extinction.
Increased agricultural efforts to combat rising food prices demand ever more of already strained improved water sources; the same sources that eight out of ten people in rural areas still lack basic access to.
While we must all deal with the effects of these environmental concerns, people living in conditions of hunger and poverty in the developing world are at the greatest risk. The vast majority of people in hunger and poverty live in rural regions, relying heavily on agriculture, with their well-being closely tied to the natural environment. They are extremely vulnerable to extreme weather like droughts and flooding – exacerbated by climate change – and bear the burden of climate change (because they account for 80 percent of world population) though their carbon footprints are the smallest (World Bank World Development Report 2010).
But progress is being made. At the end of 2010, deforestation rates were gradually decreasing and over seven million hectares of new forest have been grown annually since 2000. The latest World Bank data has shown promising developments in sustainable energy as well. Simple steps such as making efforts to adopt efficient cooking stoves for biomass use have significantly reduced carbon dioxide emissions in developing regions and increase the capacity of limited incomes.
Building more resilient communities that can cope with environmental challenges is at the heart of The Hunger Project's (THP's) approach.