Various Environmental Issues
Environmental Illness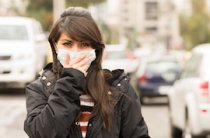 Environmental Illness
You may have heard about different ways our environment is polluted, but you maybe surprised to find out about some of the specific poisons in our environments that can hinder us from overcoming symptoms and conditions and slow down our healing process. These pollutants and toxins can trigger issues and keep us stuck in a place of poor health if we aren't made aware of their presence in our lives and learn ways to fight against these various harmful elements.
Not only will this article shed light on some of the environmental toxins you may not be aware of, but it will also provide you with information on how to protect and arm yourself against these destructive forces. Your body is constantly adjusting to things in its environment and fighting against toxins it encounters. Once you have this information and begin to offer your body the foods, supplements, and protective measures it needs to thrive, you will no longer have to be a victim to the ever-changing environments you find yourself in.
Environmental Issues Inside the Home
Allergies, monthly headaches during your menstrual cycle, asthma, eczema, anxiety, fatigue, hair loss, brain fog, confusion, weakness, aches and pains, and a host of other health issues can all be exacerbated by various environmental issues. You may be wondering what is going on in your environment that is causing your unique health complications. Here are just a few of the environmental triggers you may be up against:
Carpet Chemicals
I've been discussing the issue of carpet chemicals for decades now, and addressed it once again in my first book, Medical Medium. Brand new carpet contains solvents, fungicides, and other toxic chemicals, which can trigger seasonal affective disorder-like symptoms and other conditions and symptoms connected with any active or inactive viruses you have. For example, if you have Epstein-Barr virus and you are exposed to the chemicals found in new carpets, fibromyalgia, multiple sclerosis, rheumatoid arthritis, Lyme disease, aches and pains, brain fog, migraines, Hashimoto's, psoriasis, asthma or a host of other conditions and symptoms may arise or worsen.
Using a conventional carpet cleaning service can also be problematic. A conventional carpet cleaner typically uses a large number of different solvent chemicals mixed into a single, toxic brew. People don't realize that the freshly cleaned carpets they are padding around on barefoot and letting their children play on have been saturated in such a harmful solution. Problems can especially arise in the wintertime when people get their carpets cleaned and keep their windows shut for months at a time.
Even if you feel you're in fantastic health, just getting your carpets cleaned could potentially set you up for your first Lyme disease diagnosis. The solvents and chemicals found inside these freshly cleaned carpets can trigger off viruses in people's bodies such as Epstein-Barr and neurotoxins, such as those that create neurological Lyme. Lyme disease at its core is never bacterial or parasitical, it is always a viral issue. This is still undiscovered information that I brought to light in my book Medical Medium for the first time. These viruses create the neurotoxins that trigger neurological issues that are associated with Lyme. If someone has no symptoms of Lyme until they are exposed to a toxin like carpet chemicals, it means the toxin triggered the virus to worsen, resulting in the start of the symptoms associated with Lyme disease. If this information is unsettling or new to you, check out the "Lyme Disease" chapter in or check out "The Unknown Cause of Lyme Disease" radio show and try to keep an open mind so you have all healing opportunities in front of you.
Be mindful of how old your carpet is as well. Older carpets tend to begin breaking down and can start to harbor various levels of mold. You may not notice mold in any other parts of your home, and still be unknowingly affected by a low-grade fungus growing in your older carpets.
Depending on your specific circumstances, you may have to live in a place with carpets and face these issues. If you're living in a rental apartment that has new carpeting, extremely old carpeting, or carpets that have been freshly cleaned with toxic chemicals, do not burden yourself with worry. There are many choices you can make in your life when it comes to foods, supplements, and other more flexible lifestyle and self-care choices that can help you combat the environmental toxins you face.
Paint
You may see people giggling as they splatter paint on each other while finishing a painting project in a commercial, television show, or movie, but this staged scene is actually highlighting a scenario that could actually be incredibly harmful in real life. The paint they are playfully splashing at each other is in fact toxic and the less exposure you have, the better.
Be cautious and mindful of painting projects inside the home. Fresh paint can have a negative impact on your health, and it takes time for the paint fumes to dissipate. If possible, use low-VOC paint, which may somewhat help in lowering the toxins you and your housemates are exposed to.
Both viral and bacterial conditions are more easily triggered when someone is living in a freshly painted rental or any environment that has been newly painted. One condition that may be triggered to worsen is a streptococcus infection, which could result in a handful of health-related difficulties including SIBO, sinus congestion, UTIs, styes, and acne. Even if you are in excellent health, regular exposure to fresh paint could still negatively impact your health.
Mold
Mold can be present in a variety of places in the home. Different types of black mold that may appear inside the walls, underneath the kitchen sink, or in a variety of other locations in the home can trigger serious health symptoms and conditions. Black mold can be a major trigger for neurological viruses that create Lyme disease symptoms, a variety of multiple sclerosis, or a host of other health-related issues. If you want to learn more about mold and the potential health risks from mold exposure, listen to my radio show Healing From Mold Exposure.
When I first began working full time with people doing readings on their health as a teenager and young adult, I lived in conditions that were far from ideal. I did not charge for consultations and could afford very little. As a result, I know what it's like to live in a one room apartment that's filled with harmful pesticides, toxic paint, and mold. I understand that many people do not have the financial means or the ability for one reason or another to move away from and/or modify their living quarters. The awareness of potential environmental toxins inside the home can still bring about understanding, and some of the suggested dietary and supplement recommendations at the end of this article can still be beneficial for you and your loved ones to help safeguard your health.
Water
From brushing your teeth to washing your hands to soaking in the tub after a busy day, you are constantly encountering varying qualities of water. Many people know to avoid drinking tap water whenever possible. If you cannot afford a high-quality water filter, even a semi-decent filtration system can offer some benefit.