Plastic Environmental Issues
Environment, Community, Justice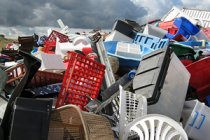 Americans are generating more plastic trash than ever, and very little of it gets recycled. Plastics and their byproducts are littering our cities, oceans, and waterways, and contributing to health problems in humans and animals. The Ecology Center can help you use less plastic, recycle the plastic that you do use, and learn more about its hazards.
Plastic Recycling
According to the EPA, plastics make up more than 12 percent of the municipal solid waste stream, "a dramatic increase from 1960, when plastics were less than one percent of the waste stream." US residents are buying more plastic, and only about 8 percent of it gets recycled. The plastics industry rarely uses recycled plastics in the vast majority of their products, unlike the glass and metal industries. The recycling arrows stamped on plastic products and the cities that collect every type of plastic via their recycling programs lead people to believe that all plastic products are recyclable and being recycled, and that's simply not true. Non-recyclable plastics are separated and landfilled.
The Ecology Center currently picks up clean, rigid plastic containers, but we encourage people to avoid buying plastics whenever possible, since most plastics are not recyclable in the same way that glass, metals, and fibers are. Plastics are typically turned into only one other product, which must be landfilled at the end of its life. As the plastics recycling infrastructure develops and viable new plastics markets emerge, the Ecology Center will evaluate the collection of other plastics, based on operational, cost, and environmental concerns.
Are Plastics Safe?
Some plastics we know are toxic, such as #3, which is also known as PVC or vinyl. PVC contains phthalates and heavy metals, and creates dioxins when it burns. Other plastics contain Bisphenol-A (BPA), which has been identified as a chemical that disrupts hormones. Plastics can contain thousands of possible additives, and manufacturers are not required to disclose what their recipes are. Any plastic can leach, depending on the conditions (light, heat) and what additives it includes. The Ecology Center recommends avoiding plastics when possible, particularly in toys and products for children, and products that come in contact with food or drink.
Get Plastic Out of Your Life
Because plastics and their ingredients are pervading our oceans and waterways, invading the bodies of humans and wildlife, and filling landfills (with new and once recycled plastic) the Ecology Center recommends eliminating plastics from your life, as much as possible.